In response to the continued challenges presented by the Covid-19 pandemic, and thanks to the generosity of our donors during the 2020 Christmas Appeal, we have relaunched our Emergency Fund to provide vital support to people experiencing homelessness.
The Emergency Fund was originally opened in April 2020 in response to feedback from frontline workers who told us that fast, flexible grants were needed urgently. Within three weeks of the start of national lockdown we had opened the fund and over the course of the next five months we gave out more than 4,500 grants and distributed over £1.65million in funding across the UK.
You can read the full report here: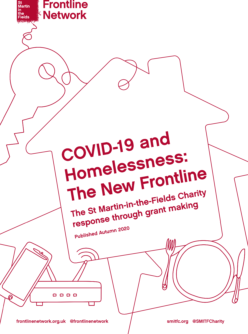 Unfortunately, the second wave of the pandemic has exacerbated existing issues once again. The economic downturn is impacting individuals and families, and issues around housing are closer to home for so many. Homelessness services are struggling to provide support. Many have had to close or fundamentally change the support they can offer, meaning services often relied upon are now inaccessible. Without face-to-face support or access to technology, many who were already vulnerable, are further isolated.
Facing lockdown measures, night shelters are struggling to function during this cold winter in the same way, and with less government resource available, demand for support is almost unprecedented. People experiencing homelessness, and the frontline staff who support them are currently unable to buy essentials such as food and hygiene items, and existing services such as food banks are experiencing shortages amongst heightened demand. Frontline workers are also reporting increasing prevalence of mental health issues and domestic abuse amongst those support.
Frontline workers have once again reiterated the need for accommodation, food, support and contact with the people they support. In response, and thanks to your support, we are pleased to reopen the Emergency Fund. As previously, we are offering grants in three areas:
Basic Essential Needs covers items such as food, nappies, furniture, and kitchenware, making a new place to live a home.
Overcoming Barriers to Support helps people access support and maintain contact with networks as services have changed. Mobile phones, laptops and internet access can provide a lifeline to those at risk of isolation. For example, one support worker told us that a client faced debt on their mobile phone used to communicate with their psychiatric and housing support teams. By clearing it, the Emergency Fund grant allowed them to maintain this vital contact.
Securing Accommodation helps people find and keep a safe place to live. One family told us that the Emergency Fund grant helped them secure self-contained accommodation where they 'feel happy, safe and capable to social distance and self-isolate ourselves with independence… We feel loved and the children have some space too study without any fear. This is a place where we will rebuild our life.'
None of this would be possible without your support. Thanks to your generosity, we are able to reopen the Emergency Fund, and together provide vital support to those who need it most. Thank you.
The report below presents a snapshot of the data we received through the applications made to the VRF Emergency Fund during the time it was first opened, starting in April 2020. Your donations made it possible, and for that we remain thankful.
If you want more information about the grants we offer, and how to apply on behalf of someone you support, please fisit the Vicar's Relief Fund website.